How to select a right baler for your recycling plant
If you are a recycler who would like to buy recycling balers to handle your large paper objects such as cardboard, carton boxes and corrugated paper, newspaper, magazines from recycling factories, paper box makers or baler resellers, TB-1011 series horizontal baler would be the right machine for your paper waste handling.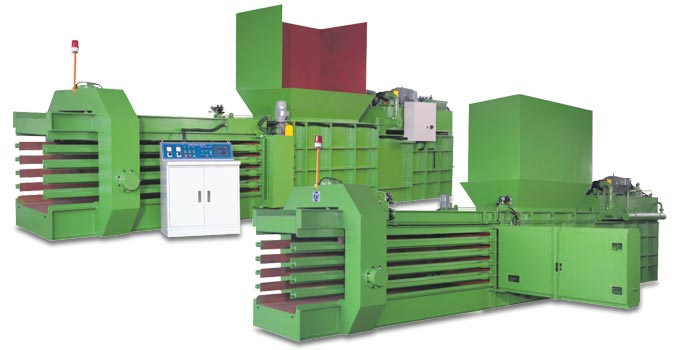 Automatic Horizontal Baler TB-1011 Series
With 140 tons of compression force and production rates from 10 to 20 tons per hour (60HP~150HP), the powerful motor takes care of the heavy load requirements from the horizontal baler, TB-1011. TB-1011 series' dimensions are 1050(w) x 1100(H) x variable (L) and it bales up to 1300 kg.
It's a channel automatic horizontal baler with aperture of 986 mm (width) and 2,000 mm(length). TB-1011 automatic horizontal baler is for industrial baler procurers who require high capacities to meet their large amounts and size of recycled commodities. And besides having the capability, it also compacts firmly. TB-1011 automatic horizontal baler's design is renowned for its extremely simple installation, long life cycle, high quality material and excellent performance.


Superior PLC System for Troubleshooting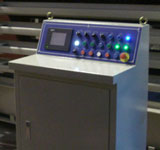 recycling baler with PLC system for TB-1011 series
When you're running 10 or 12 hours per day, you need recycling balers that are reliable without any dilemmas. You want to be able to run the recycle balers and not work on them; you want high durability ones that only require little maintenance and regular small component replacement.
Techgene Machinery's TB-1011 series is a low maintenance horizontal baler because of its sophisticated design based on almost 40 years of experience. In addition, every recycle baler is operated with PLC system. Every baler is designed to indicate the status of operation and failure through a touch screen. When the recycling baler breaks down, the screen will point out the errors and all possibilities of causes, which is very helpful for users to troubleshoot. In the system, every error record is saved in the history for future reference.
Twin-Motor Operation Baler
To achieve the goal of production efficiency, the recycle baler is constructed to have two motors working together in order to compensate for each other. Twin-motor recycle baler ensures that no unpacked material is accumulated when one of them fails to operate. Since a high flow rate pump that is compatible to high horsepower motor can be pricey and a lower horse power one is more accessible from the market. A twin-motor recycle baler system has not only lowered the risk of a non-functional recycling plant, it also reduces the cost of stock for future maintenance.
Regenerative Hydraulic Circuit - Energy Saving
Baler
For all non-regenerative hydraulic system, all the return oil flow out from the ram cylinder will flow back to the tank directly. But for saving power energy, all recycle balers manufactured by Techgene Machinery are all equipped with regenerative hydraulic circuit. During ram press forward all return oil will be lead to the flow-in circuit to speed up the low load press stroke. Normally this speed can be up to twice of the non-regenerative one.
This means we can mount a lower horsepower motor to get higher throughput and of course save power energy for the clients who installed Techgene Machinery recycling balers.


Feeding Hopper
Techgene Machinery's recycling baler is customized depending on recycled material, which means the hopper to feed waste material can be connected to a cyclone for slit or shredded paper or a conveyor for bigger objects or, a tipping bin, or even directly feed by shovel machine. TB-1011 series' feeding hopper is designed for bulk paper articles such as carton boxes, corrugated paper and cardboard without shredding.
Automatic Ruffler and Exclusive Auto-Tie recycling baler
TB-1011 series' automatic ruffler is recommended for magazines or newsprints due to its tight baling achievement. And the auto tie horizontal baler is adaptable for various recycled materials. If expansible and large-sized recycled articles need to be baled, Techgene Machinery is capable to reach client's demand by acquiring the right tying strings to avoid production bursts.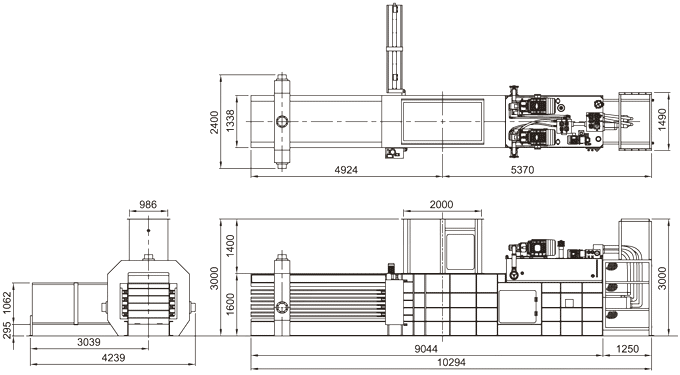 Machine dimension of automatic horizontal baler - TB-1011 series