Create Car bumper, Electronic Product recycling balers with smart designs
TaiZhong, Taiwan -- Techgene Machinery Co., Ltd. (Techgene Machinery) is a recycling baler supplier (horizontal and vertical balers) with almost 40 years of experience. Their seasoned recycling baler manufacturing experience has allowed them to deliver smart solutions to cope with various recycling obstacles including limited space, large recycling objects, hard to handle materials, dysfunctional old balers, etc.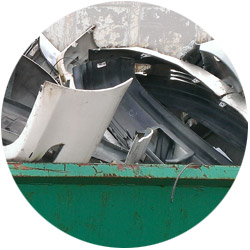 In Japan, there's a recycling company that is specialized in collecting electronics products and car bumpers. Because recycled bumpers take up too much space when shipping, the company wished to buy a recycling baler that could pack bumpers with a fixed size.
The company contacted Techgene Machinery to consult regarding their requests. To build a recycling baler that would be able to press and pack plastic bumpers, customization is necessary. With Techgene Machinery's design, the hoop is bigger for easy feeding, recycled bumpers are wrapped with bags for safety, and the metal plate in the baler for compacting is thickened to enforce its power.
As a result, Techgene Machinery built a waste baler machine that would bale car bumpers safely, and at the same time meet client's size requests. The size of bumper block is 1.3m (l) * 1m (w) * 1m (h). Besides plastic car bumpers, recycled fridges, TV's, electric appliances andair conditioners are some of what Techgene Machinery can handle.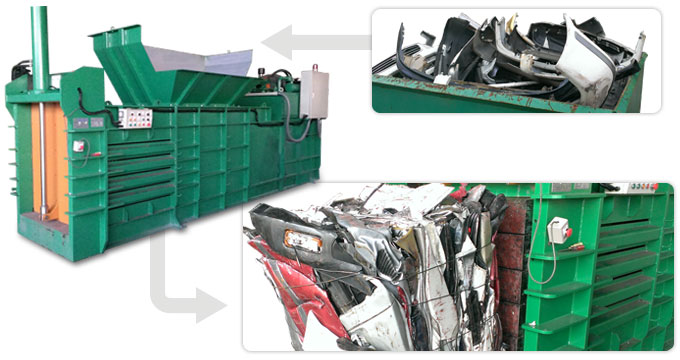 Baler for car bumpers, electronics products and large object recycling
Plastic Mulch Plus Dehydration Recycling Equipment -- Completely Save Money and Earn Money At the Same Time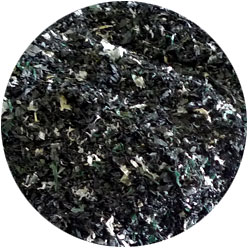 With 100kg of plastic mulch, you can get 90kg of it back after baling. In Japan, it has become a popular business with high-yield profits.
In Japan, Techgene Machinery has sold over 50 recycling balers with prominence. Many recycling balers were sold with dehydration functions, some weren't. For a recycling balers that include a dehydration system, rust and water systems should be a concern. Techgene Machinery's sophisticated structural designs result in long-lasting machine life.
Baling equipment supplied with dehydration equipment allows users to clean the plastic mulch before packing. To prevent rusting caused by water, certain parts are built with stainless steel. In addition, stainless steel components are regularly replaced to sustain recycling baler's life cycle.
Normally plastic film as mulch is used for vegetable production; recycled plastic mulch can be re-used and turned into plastic pellets. In materials recycling facility, plastic mulch is baled, stacked and transported.
Techgene Machinery is also specialized in designing custom-made horizontal or vertical balers that are efficient, cost and energy saving with high productivity.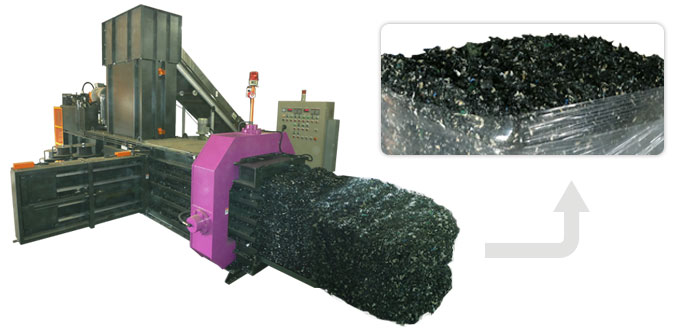 Plastic mulch plus dehydration recycling equipment
Waste Baling Equipment for a Tissue Maker in New Zealand - Techgene Machinery Build to Fit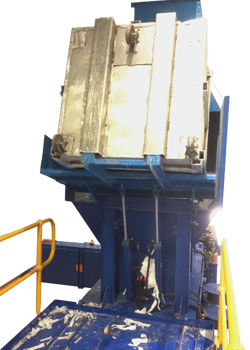 In New Zealand, one of the largest tissue making companies purchased recycling balers from Techgene Machinery to handle tissue paper wastes.
"Tissue Blocks are thick and dense; a cyclone baler wouldn't work for such heavy objects. We designed a recycling baler with a feeding hopper that contains a cutting system, which is capable of chopping paper blocks into pieces. In addition, the metal plate for pushing paper pieces together is reinforced. More importantly, an experienced engineer that is able to adjust the recycling baler to perform at its maximum is essential.", said Garrett Hsu, the owner of Techgene Machinery.
Because it's a large plane, a wheel tipper is used to collect recycled paper chunks. Tipper is wheeled around to gather papers and dumped into the hopper for the remained auto tie process.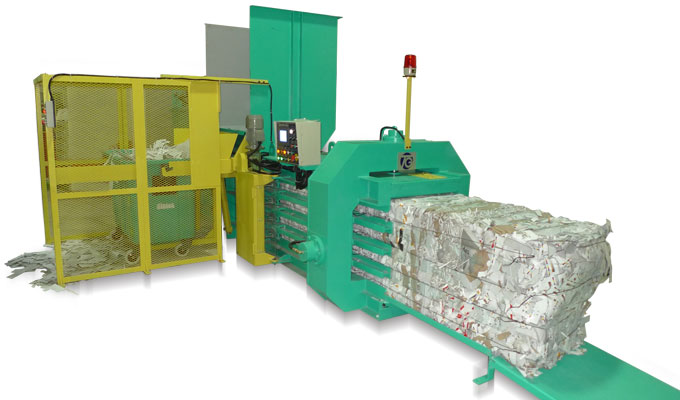 Recycling baler for tissue paper wastes